Create a piece of graphic design that shows use of our design tips (hierarchy, fonts, colour, layout).
It should communicate information effectively through use of text and imagery and should appeal to your target audience. Your design deadline is 2 hours.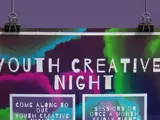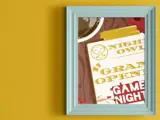 1) Hierarchy
Before designing, number each bit of content or information for your design in order of importance. Consider the order in which you want people to read information, if you try to make everything stand out - nothing will stand out.
2) Fonts
Choose a couple of fonts and stick to them. You can be creative with large heading fonts but keep it simple with smaller text. 
3) Colour
Make a colour palette of up to 5 colours that work well together and suit your needs and stick to them.
4) Imagery
Think about what imagery will help convey information without words. This could be graphics, illustrations or photography.
5) Layout
Experiment with your layout to create something eye catching and clear to read. Remove information or elements that are not necessary or do not help convey the message - keep it simple!
A project in collaboration with...