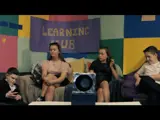 Summary
What could schooling, education and learning look like in 2030 and beyond?
Pupils from St Paul's RC High School in Glasgow and its feeder primary schools worked with Braw Talent to film their ideas for the future. The film is based on a scenario of future education developed by the Goodison Group in Scotland and Scotland's Futures Forum as part of their project on schooling, education and learning in 2030 and beyond.
Based on a report by Scotland's Futures Forum & The Goodison Group in Scotland (2019). Filmmaking programme designed and delivered by Braw Talent. Commissioned by The Scottish Parliament.
Session 1
Pupils are introduced to the concept behind the project and begin to explore their own ideas to develop some scenarios, a script and storyboards. 
Session 2
Pupils choose their preferred team to specialise in (film crew, performance, art department) - learning about equipment, on set rules / etiquette and shooting.
Session 3
Facilitators allow pupils to take the lead on the shoot as they display their skills, knowledge and confidence on the final shoot day. They also participate in podcast and diary-room sessions to explore their own ideas of the future of education.
Session 4
All participating pupils spend the day at The Scottish Parliament where they make a presentation to politicians and change makers before the premiere screening of the completed film.
BAFTA & BIFA nominated facilitators
Braw Talent facilitators
• Darren Osborne
• Lydia Everitt
• Colm Keegan
96% of the pupils rated the overall project 8/10 or higher.
Team work is really important because the camera and sound crew need to work closely behind the scenes.
My favourite part of the project was designing the costumes.
You were able to take them out of themselves, which is the very essence of education.
100% of pupils agreed or strongly agreed that they learnt new skills during this project that they could use in the future.
Primary and Secondary students working together was surprisingly really fun and interesting.
This opportunity was brilliant for the pupils.
Take your time to work on the story, make friends on set and have fun!
My favourite part of the movie was making the scripts.
100% of pupils agreed or strongly agreed that they learnt something new through taking part in this project.
Something that could be improved next time would be a bigger cast and bigger budget.
2. Social & emotional wellbeing.
5. Promoting a high quality learning experience.
6. Differentiated support.
8. Employability and skills development.
9. Engaging beyond the school.
An interview with
Braw Talent's Colm Keegan
After completing diary-room and podcast sessions, the young people decided to turn the cameras towards the Braw Talent team to find out our thoughts on the project.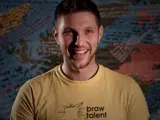 A project in collaboration with...